Pvm: 19.09.2018 - 21.09.2018
Klo 9.30 - 17.00
Advanced Coach Training
Processes for Personal and Professional Transformation
True Business is proud to present Advanced Coach training – Processes for Personal and Professional Transformation given by Robbie Steinhouse.
Advanced Coach -training presents tools and models for discovering your life purpose and values, along with methods to help support people grow into leaders.
The course is to help people achieve a personal transformation, so they can lead happier and more productive lives.
This advanced coach training is perfect for people who have already studied some methods of self-development, NLP, coaching, leadership or leadership coaching.
How is this coach training special?
The following question is common amongst our course participants and was also a real issue for me:
As the success in my career develops, I am finding the demands on me are becoming increasingly difficult. I feel stressed and worry that if this continues, it will not be sustainable.
Twenty years ago, my own story was that of a successful entrepreneur finding it very hard to balance success and happiness – the so called 'work life balance' eluded me.
I began an insatiable journey to find the answer: I took numerous courses from 7 Habits, NLP, Transactional Analysis, Yoga, meditation retreats, the Hoffman Process and received various kinds of therapy. Whilst being beneficial, none of this completely worked for me and I still felt an inner anxiety that never went away, whatever I did or achieved.
Until, in 2001, whilst sitting around a pool on holiday, I suddenly had a spontaneous healing moment that transformed my life. I developed this into a change process and began teaching Rescripting in 2002; since that time, I have seen transformations of people who have attended my courses around the world.
Advanced Coaching is built around this technique. It also presents tools and models for discovering your life purpose and values, along with methods to help support people grow into leaders.
I believe that change is both incremental and revolutionary. Advanced coaching provides the tools and methods to provide lasting change. It also provides a lasting tool kit for you to dip into, whenever future challenges appear so you can become your own coach and transition out of future problems you may face.
What will I learn?
Robbie's own Leadership Matrix.

 Drawing from his 30 years setting up and running successful businesses, Robbie set out to create a developmental tool that combines the intellectual rigours of business psychology with the seasoned experience of the commercial world.Robbie uses archetypes to elegantly explain the capability sets of the many business functions. All of which present different intellectual, emotional and personal challenges.

The Six Parallels:

Find out what your personal values, motivations and weaknesses are, and those of your organisation. What can you do align them in order to build a lasting and congruent vision for success.
Parts: Many psychological models are based on the notion that our personality is made up of different parts. When these parts are at war, anguish results.We will cover 

Parts integration

. You will often find that you or your clients are incongruent over an issue e.g. "I hate my boss but I must be nice to her or I will get the sack".This uneasy mix of the two parts needs to be resolved. Being in this state of being pulled in two different directions by two different sub personalities is called being 

simultaneously incongruent.

Six step re-framing: 

This process argues that a given behaviour is carried out by a part of the person. With problem behaviours it is likely that the part responsible will have poor communication with the rest of the person, the success of this technique depends on re- entering communication with that part and establishing its positive intention.

Transactional Analysis: 

The aim is to produce the Integrated Adult possessing Ethos (a set of values) and Pathos (the ability to empathise with other human beings).

Script, Games, Drama and Life Positions: 

Eric Berne (the creator of Transactional Analysis) believed that we spend much of our lives acting out a story about ourselves that we have "written" at an early age (probably around 5 or 6).If we all wrote positive stories the world would be a much happier place. Sadly not all of us do. Some individuals write "winning" scripts where they get love just by being themselves, others are sent destructive messages about what they must do to get love, for example,"You can't do that, let me do that for you""Get Lost""Go play on the Freeway"

Games: 

First expressed by Berne in his famous book "

Games People Play"

.

 

Have you ever been roped into a game? Games scripts include:" I'm okay you're not okay". "See what you made me do". "Don't worry I'll take care of you".We help you to spot when you have been caught up in a game and how to understand what could be going on. Games can often occur in coaching and it is important to observe if the client is engaging in a game.

The Drama Triangle: 

Again part of games in Transactional Analysis and famously identified by Berne. Games often operate via this mechanism and people are described as being "on the triangle" if they are acting out one of three roles: Persecutor, Rescuer or Victim. Watch out for people who habitually take up these roles, and at the same time understand that everyone falls into these traps from time to time, and that everyone includes you!
Re-scripting: Created by our own Robbie Steinhouse this is a truly transformational process based on TA and tools from NLP. Berne believed that life scripts are created in childhood. Robbie invites you to explore the identities, roles and beliefs that make up your current life scripts. Discover what your script is. Is it a winner script, a banal script or a loser script? How can you (or your client) find a new, better one that fits with who you are now?
Archetypes and their energies: Including Stephen Gilligan's Strength, Softness and Playfulness. We will also cover Gilligan's three minds, the Cognitive Mind, the Somatic Mind and the Field Mind.

Advanced Time & Energy management: 

The key to time management is to efficiently capture necessary activities without having the "need" to respond to everything immediately. The ability to let your mind relax and be truly spontaneous and present provides the refreshment that your system needs from living a busy life. It gives you the energy to be both productive and happy.

Being Good to yourself: 

Including keeping promises to yourself, investing in yourself, NLP yourself, and discover your mission.
And, as we like to say in NLP, much, much more!
Schedule
Dates: 19.09.2018 – 21.09.2018
Schedule: 9:30 – 17:00
Structure
Day 1: The Leadership Matrix. Identifying and working with core characteristics.
Vision and character
Leadership
Operations and Finance
Sales and Marketing
The tenth element, mindfulness
Day 2: Identify childhood identity and resolve inner conflict
(Identity, Roles, Beliefs, Transactional Analysis, Dan tiens, life scripts).
Day 3: Create adult identity and gain tools to make your goals happen and stay in place. (Rescripting, advanced time & energy management, self coaching).
Trainer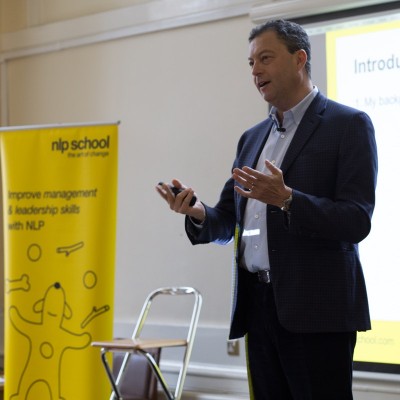 Robbie Steinhouse
Robbie Steinhouse is NLP Master Trainer, the founder of NLP School London, a business leader, coach and author.
Robbie has built and ran successful businesses in recruitment, property and insurance. As these grew, he found an ever-increasing need for more than just commercial skills, both for himself and his team.
He found a bewildering range of psychological and personal development models on offer. The material that he discovered to be (by far) the most useful was NLP, especially when linked to Transactional Analysis and the Coaching approach. More recently he has added Mindfulness to this list.
Robbie now teaches around the world. He has acquired a reputation for combining a deep seriousness about personal development with a lively wit and good-humoured scepticism about the more outlandish aspects of the industry.
His first book, Think Like an Entrepreneur was published by Prentice Hall in 2008. Brilliant Decision Making and How to Coach with NLP followed in 2010. His most recent book is Mindful Business Leadership, published by Routledge in 2018.
Francis Currie, Program Director of the Wireless Group, said that Mindful Business Leadership -book 'could do for leadership what Stephen Covey's Seven Habits did for personal development'
You can read more about Robbie on NLP School London's website
Customer testimonials
"The coach training gave me great tools, models and processes to enhance my skill-set in a professional environment. Really well presented by a friendly and engaging trainer" – Ralf Osswald, Associate Director, Business Development, Ernst & Young
"It's given me resources to deal with important (& non-important) communication issues. I feel more confident about myself and my abilities and place in the world. I have tools to help with stress, to keep me calm, and put things in perspective." – Vanessa Ashton, Regional Development Manager, WaterAid
"I can honestly say this programme was completely transformational to my work and to my practice especially in how I now prepare for client work – both my coaching and supervision client work" – Independent Coach
Price
Three-day ticket: 676,40€ + 213,60€ (Vat. 24%)
Total: 890€. Price includes course material.
Earlybird discount: Get 20% discount when you order this training before 19th August. When you order use coupon code: TRUEBIRD. Order here!